Skip to content
Hi, I am Keiko living in Cairns, Australia – a nature abundant little town where the world oldest rainforest meets the Great Barrier Reef.
When I graduated university in the late 80's, I denied to be a part of crazy "bubbly" money driven society in Tokyo. And without clear vision, I flew to Australia to visit authentic Aboriginal rock art sites, as the painting I saw in Sydney Museum during school holidays stayed in my mind strongly.
I have been spending more than half of my life in Australia since, and enjoying earthy, relaxing life style in not far from pristine jungle, which is contrasted to the concrete jungle where I was.
In these past 30 years, I gave births to 2 children + humble small businesses ( interestingly enough, including Aboriginal rock art tours).
Cairns' easygoing atmosphere encouraged me to be honest to the gut feeling and follow the dream.
My first venture was publishing Japanese local magazine. Simply because I wanted to know more about the region but there was no resource in my language back then in 1995.
Facing 3 obstacles – being an Asian, young and girl (I was in the 20's ) didn't make pursuing things easy. However, once started, the magazine rapidly gained popularity as it was the only publication in Japanese.
We rode on the wave of tourism boom in Cairns. The Casino, Cairns' tourism icon Skyrail and the major shopping centre started all around the same time.
As a result, our services naturally expanded not only publishing but also graphic design, translation, journalistic work, event conduction and media coordinate. All for linking local businesses to the Japanese market.
We were so grateful for the opportunity to serve varied clients like individual local shops, restaurants, tour operators, airlines and government bodies. And proudly produced more than 2000 promotional tools for them.
In 2011, I sold this business for the family reason back in Japan.
After everything was sorted, I looked at the city and wondered why no one features beautiful local products. The main street was fringed with shops that sells mass produced koala soft toys etc.
Remembering the inspirational local producers I met through the previous job, I decided to open the retail shop to showcase their items which reflect their abundant life style or humanity.
Even though the medium changed from paper to the space, my business' mission "Your Window to Japan" was still in line.
I meet producers and try to pass their message to the customers by talking, writing blogs and occasionally conducting tours to meet them.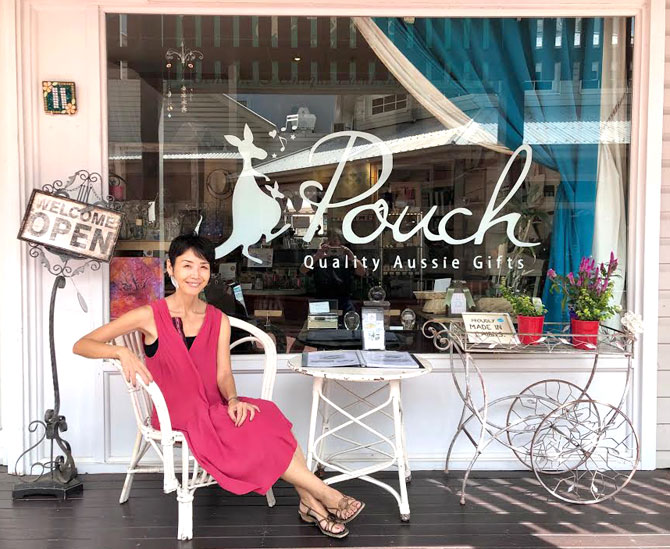 When the shop operations has settled, I started to provide personalised services such as branding support (concept making, graphic/website production etc.) for the Japanese individual entrepreneurs, as well as tours on request basis.
They are my life works to enjoy sharing experiences.
During pandemic, my focus changed a bit. Still embracing 2 different cultures, this time I am trying to introduce the virtues of my roots (Japan) to the Australian people.
It lead me to start a new salon focused on Japanese philosophy and ethics in mind.
The stories continues..
---
Profile:
B.A in education, Yokohama National University. Moved to Australia in 1993. Started Cairns' first Japanese language magazine "Living in Cairns" in 1995. Publisher / chief editor for 16 years. Opened locally made gift shop "Pouch" in 2012.